Things to see.

Your bucket list around Innsbruck.
Innsbruck is one-of-a-kind: In 20 minutes from the town centre up to the North Chain with its breathtaking views of town. And that is just one of many highlights around the capital of the Alps. Wow-effect included everywhere.
Christmas in the mountains
O you joyful
From Hungerburg district, the Golden Roof all the way to Wilten Square: At six (yes, six!) Christmas markets with mulled wine and punch, even the most die-hard Grinch will get into the gingerbread spirit.
Maria-Theresien-Strasse
Popular shopping mile with two state-of-the-art shopping centres
12 seconds
Golden Roof
Innsbruck's brilliant landmark in the old quarter
3 minutes' walk
North Chain
Alpenzoo > Hungerburg > Seegrube > Hafelekar > made it!
10 minutes' walk to the lower terminus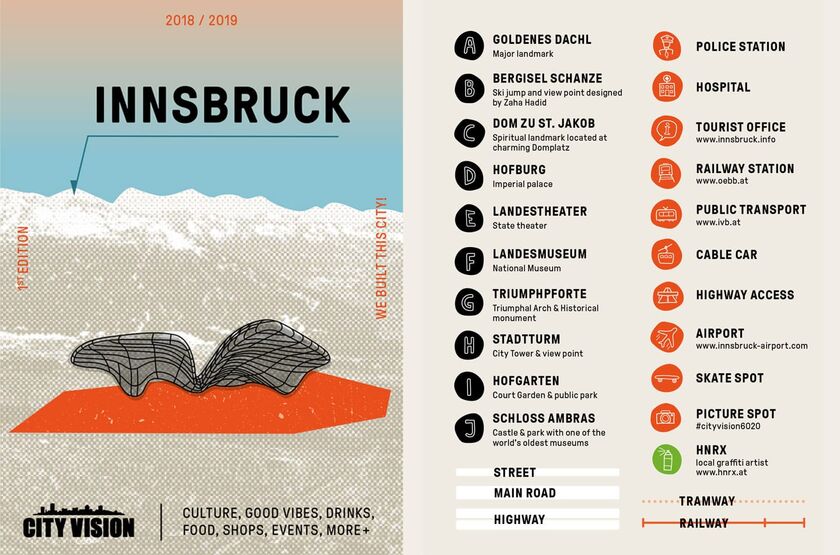 Cityvision
We built this city!
Trendy shops, hip bars, cool events: On the town map by Cityvision you'll find the favourite spots of Innsbruck locals. Simply ask for it at reception.
Bergiselschanze ski jumping hill
World-famous ski jumping stadium by star architect Zaha Hadid
12 minutes' drive
Tirol Panorama
The museum by the Bergisel houses the 1,000 m2 large giant cyclorama
12 minutes' drive
Ambras Castle
The art museum in the history-charged castle is the oldest museum in the world
12 minutes' drive
Four Hills Tournament
Flyyyyyy!
Every year again, the Four Hills Tournament puts in a stop at Innsbruck's Bergisel at the beginning of the year. The world's best ski jumpers provide quivering sensations on the prominent ski jump by star architect Zaha Hadid.
Patscherkofel
Innsbruck's local mountain for hiking and skiing and panoramic views
20 minutes' drive
Crystal Worlds
Within the "Giant" in Wattens, 16 sparkling wonder chambers by Swarovski await
25 minutes' drive
Kühtai
Skiing and hiking at 2,000 m above sea level
45 minutes' drive
Easter
Hello Spring!
Spring sends its first herald. At the Easter market in front of the Golden Roof, numerous stalls beckon to enter the colourful realm of the Easter Bunny.